Our Story
In December 2014, whilst we were both living in Ottawa, we exchanged details at our friend's housewarming party, following a chance encounter, outstanding conversation and a few drinks. Despite some opposing views (politics, hockey teams, energy policies, household animals, etc.), we came to realise that we'd love to spend the rest of our lives together, especially if it meant that we could continue debating why the other person's opinion is entirely incorrect.
After a few years in Ottawa and some life changes, we decided we were ready for an adventure, which led to us moving to London in November 2016. Moving across the ocean, and surviving everything that it could throw at us, made us realise we could probably take on anything together (please do not test this theory!). It was shortly after that we made the decision that we're ready to make it official.

We hope you'll be able to join us in celebrating the start of this new chapter in our lives, in the city where we met.
The Wedding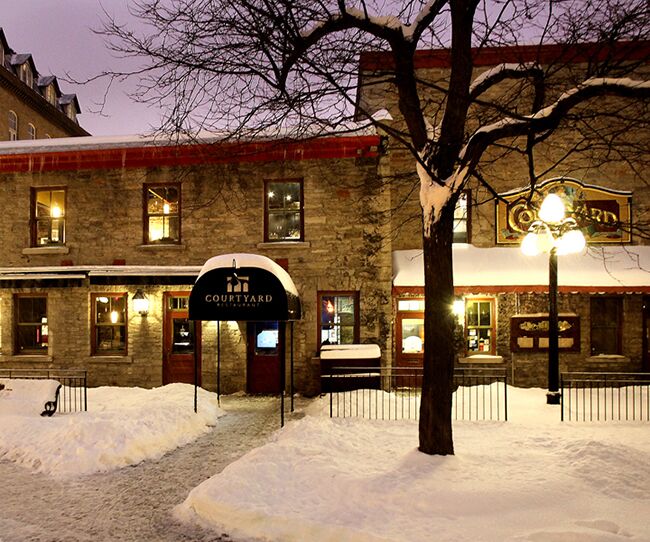 Friday, December 22, 2017
4:00 PM
Attire: Suit and tie
Ceremony and Reception
Courtyard Restaurant
21 George St, Ottawa, ON K1N 8W5, Canada
Located inside of a courtyard (as suggested by the name), the restaurant is most easily accessed from George Street, through the Clarendon passage between the Librairie du soleil and Mamma Grazzi's. Paid parking is available nearby, but we strongly advise getting to the venue by foot, snowshoe or taxi/Uber.
There are a number of locations in the market if you would like a pre-wedding tipple. We would recommend the Laff or Sidedoor, both located within 5 minutes of the venue.

While we would love to entertain your little ones, we kindly request that they stay with grandma and grandpa for the day.
Our Wedding Reception
Friday, December 22, 2017
9:00 PM
Courtyard Restaurant
21 George St, Ottawa, ON K1N 8W5, Canada
Following the ceremony, we would love for our friends to join us after the ceremony to celebrate with drinks and dancing. The evening will be filled with music, good friends and family. This includes 80's hits, the best of the British Mersey beat and rock, all the best dancing music and, of course, Phil Collins. Late night snacks will be served.
Last call is at 12:45 AM, carriages (taxis) at 1:00 AM. Afterparty at Hooley's basement TBC.